Note: this page applies primarily to England and Wales.
The Guidance for both the Regulatory Reform (Fire Safety) Order [RRFSO] and the Building Regulations tell us that Inner Rooms are no longer acceptable where escape windows are not provided. Let's look at this, and how Automist can be used to solve the problem, in some depth.
View some case studies - an increasing number of organisations are utlising Automist to tackle inner room fire risks.
The Problem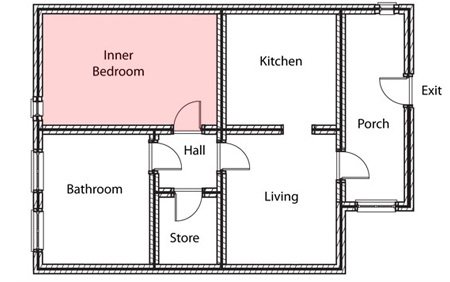 An Inner Room is simply a room that is reached through another living area, known as an Access Room or Outer Room. They pose a threat to life because a fire in the access room can seriously impede escape from the property. Inner bedrooms are particularly dangerous, as an inhabitant may be deeply asleep and perhaps even under the influence of alcohol when a fire starts in the outer room. A closed bedroom door is a mixed blessing – although it may hold back smoke for a time, it also reduces the sound level of any alarm sounding in the outer room. Slow to rouse, the sleeper may awaken to discover a major fire and thick smoke on the exit route.
The guidance for the RRFSO, the Housing Act and the Building Regulations tells us that inner rooms can be accepted as long as (at least) an escape window is provided. Typically this means that inner rooms above the first floor of a building will not be acceptable.
What does this mean for me?
There are two situations where you must tackle the inner room problem:
When construction work changes the layout of your property and you need to pass through the Building Control process, you will need to comply with Building Regulations.
Where you are a landlord or otherwise involved in letting a property that has inner rooms with no escape window or other second escape route, you will need to comply with the Housing Act and RRFSO, even if your property complied with Building Regulations at the time the layout was created. Failure to do so could have very serious consequences, including jail time or large fines in the event of death or injury in your property.
What does Approved Document B say about inner rooms?
Approved Document B gives the general advice that fire suppression systems may allow inner rooms, but does not give specifics, except in the case of loft converted houses with a total of three floors after the conversion (an additional basement floor may also be permissible). For the loft conversion case, please refer to our page on the subject. In the case of flats with rooms above first floor, the clearest guidance available is the recent BS 9991, which proposes fire suppression throughout the flat, although this is at variance with a common practice of providing suppression in the access room. It is likely that your Building Control Officer will have a policy on this matter.
What are the RRFSO and the Housing Act?
The Department for Communities and Local Government (DCLG) made a number of changes to fire safety law through the Regulatory Reform (Fire Safety) Order (RRFSO), which came into force on 1st October 2006. Parallel legislation was also introduced in Scotland and Northern Ireland, though some details vary.
The three main objectives of the RRFSO were:
To simplify, rationalise and consolidate the existing fire safety legislation into one set of regulations, reducing the burden on business and the overlap of enforcing authorities
To align fire safety legislation with health & safety law and reduce prescriptive requirements e.g. abolishing Fire Certificates
To firmly put the onus for fire safety for people on the owner/occupier/employer/landlord that is, the 'Responsible Person'

The focus of the RRFSO is on fire prevention and protection measures, and its greatest emphasis is on the duty of the 'Responsible Person' to carry out Fire Risk Assessments and implement appropriate control measures such as refitting walls, installing doors with improved fire resistance for compartmentation, fitting specialist alarm systems or in the case of inner rooms, the use of suppression systems like Automist.
While the RRFSO addresses only communal areas, the Housing Act 2004 included provisions for fire safety relating to the interior of rented properties, and it also came into force in 2006.
How do I know if my inner rooms comply with the RRFSO and the Housing Act?
A key aspect of the Housing Act and the RRFSO is to ensure that rented properties have adequate fire escape routes and fire safety in general. Specifically, if you have inner rooms above first floor in a rented property, you may have to fit a fire suppression system and possibly some new fire doors and/or smoke detectors. There is detailed guidance available in the form of the LACoRS guide. This document was created in 2008 by the Local Authorities Coordinators of Regulatory Services – part of the Local Government Association – in a bid to clarify the situation where the two new laws potentially overlapped or conflicted.Aimed at landlords and fire safety enforcement officers in local housing and fire authorities, the guide (full name: Housing – Fire Safety: Guidance on fire safety provisions for certain types of existing housing) offers practical advice on fire risk assessment and contains case studies with suggested fire safety solutions. The document, and its addendum published in 2009, is endorsed by the Government ministers for housing and fire safety, and by the Chief Fire Officers Association.
Although the LACoRS guide itself does not have legal force, it is now regarded as the standard interpretation manual for the legislation. Unlike changes to the building regulations, the legislation applies retrospectively to all rented properties. Properties that do not meet the requirements may remain in use only where it is 'not reasonably practicable' for the landlord to remedy the problem.
How does Automist allow me to comply with the LACoRS Guide?
Provision of automatic fire suppression is allowable as a compensatory feature against such layout shortcomings. The LACoRS guide states:
… provision of a suitable water suppression system can, in some circumstances, allow for relaxed provision of certain other fire safety measures [such as] relaxed requirements for inner rooms.
In the immediate years following the introduction of the new legislation, the cost of retrofitting sprinklers to properties with dangerous layouts was prohibitive. Not only would housing associations face huge installation costs; disruption to families could also be enormous. It was therefore straightforward to argue that there was no reasonably practicable solution available to address poor layout. This is no longer the case.
Inner rooms can now be protected by installing innovative water suppression devices like Automist in the access room. For the specific Approved Document B open plan three storey house layout that we described above, the LACoRS Guide does not specifically refer to it, however Plumis has issued a guidance document interpreting the LACoRS Guide on this matter, particularly with reference to Houses in Multiple Occupancy.
In more general terms, to determine whether retrofittable fire suppression is suitable for a specific application, a fire engineering approach may need to be applied. This may require a fire engineer or fire risk assessor to provide professional input, although it should be remembered that the law only requires that the landlord or responsible person go as far as is reasonably practicable. In practice it may be possible to agree a solution with the local authority's private housing team.
I have little doubt in my mind that this product will have a major influence in enhancing safety within the home for many years to come....I have no hesitation in recommending this innovative product across the entire almshouse movement.