Automist uses 10x less water than fire sprinklers
Fire Sprinklers have remained fundamentally unchanged since they were invented in the 19th Century. We developed Automist Smartscan Hydra because we believed they could be better: operate faster, be more reliable and cause less water damage. Automist is trusted in both the UK and US with over 10,000 installations. It can be installed easily with reduced plumbing requirements, no tank or commercial water supply required, and less disruption because it uses flexible hosing and does not have to be fitted in the ceiling.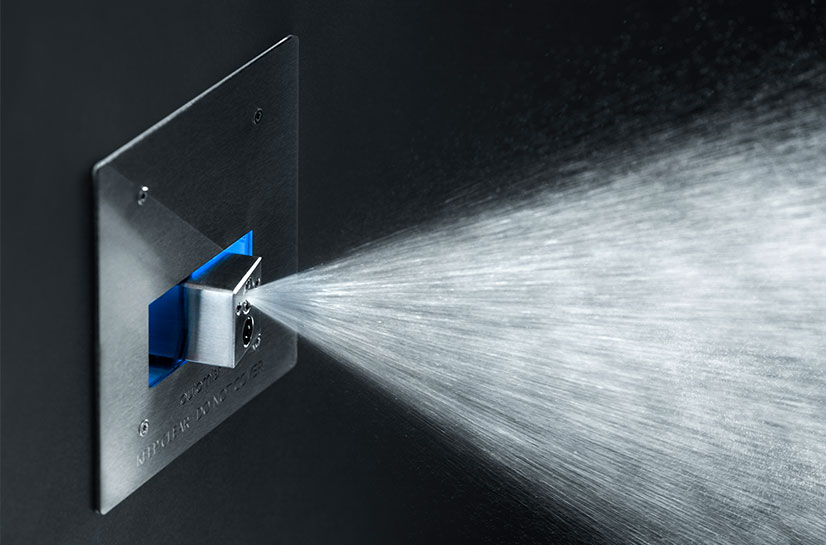 It received the highest distinction in the Red Dot Award: Product Design 2016, which goes to only 1.5% of all entries. Selected by an independent expert panel, according to criteria such as degree of innovation, formal quality, functionality and ecological compatibility. The jury awards the highest single distinction "Red Dot: Best of the Best" for ground-breaking design.
 
A modern solution to an age-old problem
Water mist is well known as an alternative fire suppression medium but is not widely applied. Now, however, Automist Smartscan has taken the technology to a new level. Exhaustively third-party tested, it exploits new science to deliver countless advantages that make it hard to resist.
 
Automist Smartscan can be used as a replacement for conventional water sprinkler systems. Activated by a heat detector, it comprises a wall-mounted swivelling misting nozzle whose inbuilt infrared sensor locks onto the seat of the fire and sprays it with water mist. In contrast to traditional sprinklers, it fills the air surrounding the fire with a fine fog, keeping the overall temperature down.
From the point of view of the approving authorities, the Automist technology is proven to be fast-acting and effective, either extinguishing or delaying the growth of the fire long enough to allow people to escape and the fire and rescue services to attend. It keeps temperatures low, too, delaying flashovers.
The use of Automist Smartscan can be justified today using prescriptive code (Section 904.11 "Alternative Automatic Fire-Extinguishing Systems"), or a fire engineered / performance-based solution.
 
Easy to install or retrofit fire protection
Automist can be installed by one of our Authorised Installer Resellers in as little as 3 hours. Plumis provide hassle-free installations from a network of individually authorised installers. All our installers go through a rigorous authorisation process to qualify. We work with only the best installers in your area.
 
Minimise fire and consequential water damage
In a fire, traditional sprinklers tend to be a blunt instrument, usually fairly effective at stopping the blaze, but even more effective at soaking an entire area. For insurers, Automist Smartscan's nozzle heads produce very fine water mist driven by high-pressure pumps that not only suppress fires effectively but also limit the kind of incidental damage that makes deluge sprinkler systems so unappealing.
For architects and other building designers, providing award winning design without compromising on safety or falling foul of the Building Code. It occupies hardly any space and runs off the water mains, avoiding the need for separate storage tanks. More than that, it is elegant and discreet, designed to complement contemporary living.