Fire Protection for the vulnerable
Automist offers a different cost/benefit proposition to traditional sprinklers. Like a sprinkler system, Automist can control fire growth, greatly increasing the available escape time for the elderly, infirm and vulnerable, but water damage is reduced and installation greatly simplified. It is a great solution for the following groups:

1) Elderly
Older adults face the greatest relative risk of dying in a fire. In 2013, older adults:
Represented 14% of the United States population but suffered 36% of all fire deaths.
Had a 2.5 times greater risk of dying in a fire than the total population.
Ages 85 and over were 3.6 times more likely to die in a fire than the total population.
 
2) Individuals with Physical Disabilities
An estimated 700 residential building fires involving individuals with physical disabilities are reported to U.S. fire departments each year and cause an estimated 160 deaths, 200 injuries, and $26 million in total loss.
Cooking (22%) is the leading cause of residential building fires where a physical disability is reported as a human factor contributing to ignition.
65% of residential building fires involving people with physical disabilities are limited to the object or room of origin.
The cooking area or kitchen is the primary area of origin for residential building fires involving individuals with physical disabilities (38%).
Residential building fires involving people with physical disabilities are more prevalent in January (12%) and December (10%).
 
3) Medical Oxygen Use
The air is normally 21% oxygen. Oxygen is not flammable, but fire needs it to burn. When more oxygen is present, any fire that starts will burn hotter and faster than usual. More oxygen in the air means that things such as hair, plastic, skin oils, clothing, and furniture can catch fire at lower temperatures. During the four-year period of 2003-2006:
Hospital emergency rooms saw an estimated average of 1,190 thermal burns per year caused by ignitions associated with home medical oxygen.
89% of the victims suffered facial burns.
In most cases, the fire department was not involved.
The case for smarter solutions
Traditional fire sprinklers are designed to operate when affected by the heat from a fire. Most sprinkler heads feature a glass bulb filled with a glycerin-based liquid, which expands when it comes into contact with heated air, shattering the glass and activating the sprinkler head.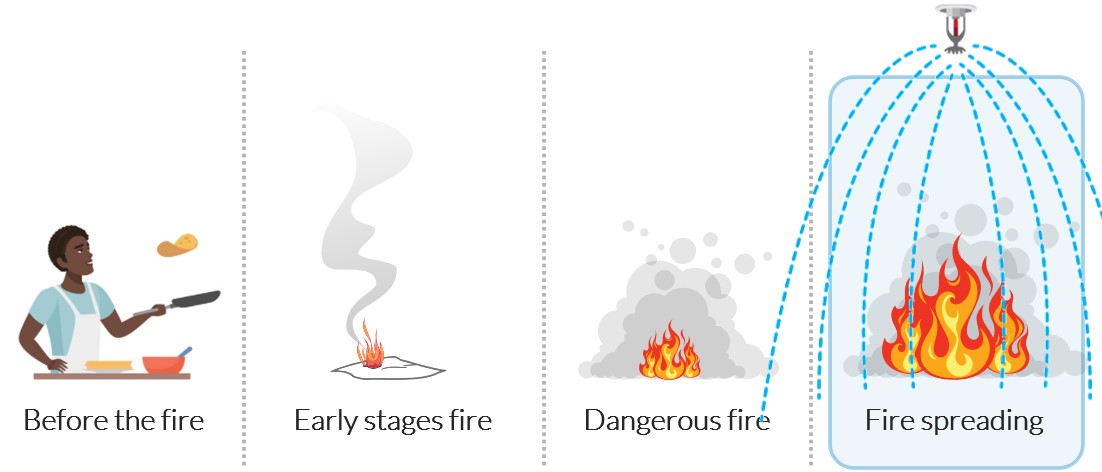 Sprinklers are most effective at tackling fast-growing fires, like an old sofa fire, as the activation temperature threshold is breached quickly minimising the time for toxic gas production. When activated, sprinklers can prevent flashover – one of the most-feared phenomena among firefighters – it is the near-simultaneous ignition of most of the directly exposed combustible material in an enclosed area.
Preventing or delaying flashover is pivotal, but the time it takes before a fire creates enough heat to operate a sprinkler (if at all, if the fire is outside its operating parameters) is also critical when the protection of vulnerable occupants is at stake.
 
Early activation and early warning with Automist
Automist activates electronically overcoming the constraints of existing sprinkler systems by operating earlier, before the temperature required to burst the glass bulb of a sprinkler and tackling fires before they generate that amount of heat, helping to reduce smoke and maintain survivable conditions. For many scenarios, Automist is proven to operate 2.0 to 13.7 times quicker than a concealed sprinkler.


A reliable integrated early warning smoke and heat combination alarm is part of every installation to raise the alarm long before the fire starts to emerge. This sensor can be coupled with a communications device for remote monitoring to inform a responsible person or call for help.
 


All combustible materials produce some form of toxic smoke when they burn but how much toxic smoke will be emitted depends on the material, the amount of oxygen available and how long it burns. The risk can vary significantly depending on the health and age of the occupant.
A single exposure to toxic gases from a house fire can have severe long-term effects that may occur immediately and clear up after a few days or may result in a permanent injury. Although it can be complicated trying to distinguish between causal effects and coincidental illnesses, there is a wide range of possible long-term effects that can result from smoke inhalation.
A reduced supply of oxygen (hypoxic episode) can result in someone being unconscious and then recovering after oxygen treatment, to some degree of permanent brain damage. Mineral particles or fibres are released in a fire that can result in permanent lung damage, and even cancer some years following a single incident. Many are calling for more research into these long-term effects, and we must ensure these factors do not go ignored or become invisible.
An electronically controlled trigger means Automist can activate significantly earlier before the build-up of significant heat. This reduces the chance of burns for someone very close to a fire and minimises the production of life-threatening toxic gases which are still the biggest threat in domestic fires.
.
 
Learn more about how the innovative sprinkler alternative uses a fine water mist to suppress fires.
An increasing number of individuals and organizations are installing Automist in their homes for a wide range of uses.
Discover the variety of ways you can buy Plumis products from our growing network of US and International Installers.